Wearable


MOST ADVANCED SMART GOLF GPS WATCH
- 1.3" TFT-LCD full-color touch screen display
- 13-hour battery life in Golf Mode
- IPX7 Waterproof
- Distances to the front/center/ back of the green
- Distances to targets and hazards
- Green Undulation to show the slopes on the greens
- Manual Pin Placement
- Easy-to-use Digital Scorecard
- Automatic course & hole recognition
- Preloaded with 40,000 courses worldwide with free updates
Features
GOLFBUDDY aim W11 GPS Golf Watch
The aim W11 GPS Golf Watch provides accurate distance measurements, with a 1.3" TFT-LCD color touch screen that provides distance calculations to the front, center and back of the green, and distances to targets and hazards. The watch automatically recognizes which hole you are playing and has manual pin placement, digital scorecard and a rechargeable lithium-ion battery which lasts up to 13 hours in golf mode.
1.3" TFT-LCD full-color touch screen display
13-hour battery life in Golf Mode
IPX7 Waterproof
Distances to the front/center/ back of the green
Distances to targets and hazards
Green Undulation to show the slopes on the greens (Majority of US courses)
Manual Pin Placement
Easy-to-use Digital Scorecard
Automatic course & hole recognition
Preloaded with 40,000 courses worldwide with free updates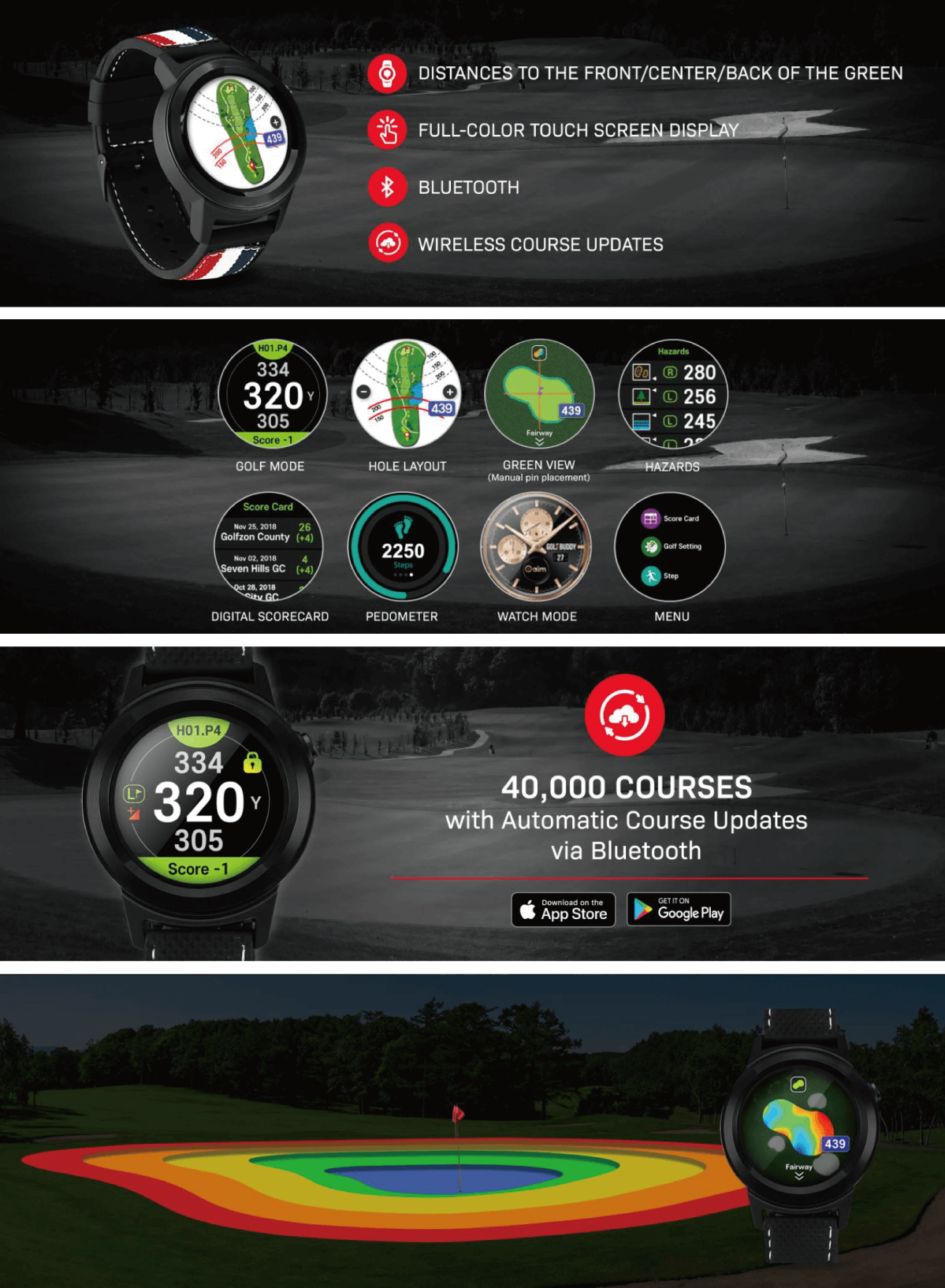 TECH SPECS
Physical spec
Weight

Main body : 35g / Stripe Strap : 23g / Black Strap : 21g
Battery
Battery Type

Rechargeable Lithium Polymer / 3.8V, 600mA
General info
Languages

Multi-language (Up to 7 Languages)
Manual
*Note: Some files may not be available on phones and tablets. Please access this page on your computer to download files.